Documentary 2017 Overview
Our modern military is an all-volunteer force. Today's enlisted more than likely joined the armed services in search of a stepping-stone on the way to something else, be it college or another career path.
As a fixture of American culture, our military has undergone profound changes as an institution, a sociological force, and as a career path. The great pride and patriotism of WWII gave way to skepticism and domestic unrest during the Vietnam era.
Today, we face conflicts that are often unpopular, but perhaps with greater empathy for the individuals who made choices often more personal in nature than patriotic.
As we look at the military life for those who do enlist we ask ourselves; does an 18 or 19 year-old fully grasp the consequences of enlisting? To join the military is to make a commitment not typically found in the civilian world. How do these life-changing decisions unfold after their service? What makes the military camaraderie unlike anything else in modern civilization? What career paths are forged? Does and can government or society fall short in aiding or understanding those who are injured in the line of duty?
This documentary will seek answers to these questions and build new bridges by embarking on an objective journey through the lives of current active duty personnel and veterans.
This documentary will debut on November 6th at 9pm on Detroit Public Television.
This film, from Director/Producer Keith Famie and the Visionalist Entertainment Productions team, is produced in association with Urban Communications Group, a 501(c)(3) organization committed to telling educational, socially-conscious stories.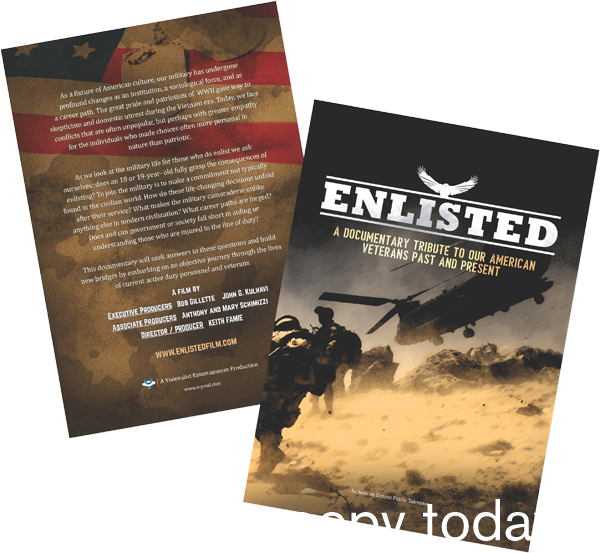 Executive Producers

Bob Gillette
Brigadier General John Kulhavi (ret)

Caring Community Leaders

Tony Schimizzi

Michigan Premiere
Royal Oak Emagine - October 26th
Bonita Springs, Florida
November 11th, 2017